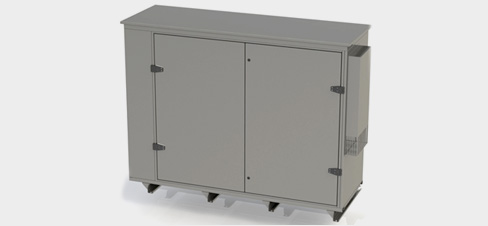 IN THIS SECTION
PRODUCTS & SERVICES
Packaged Unit Acoustic Housings, Acoustic Enclosures and Acoustic Cabinets

Type 3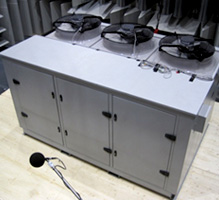 Our Type 3 acoustic housing acoustic enclosures and acoustic cabinets, has a dedicated rear section for the vertical condenser coil and fans. These Acoustic housings are 2m deep with a 1m plant cavity and 1m condenser space.
Access to the rear section is by hinged Acoustic doors, one at each end of the housing.
Fan diameters of up to 800 mm can be accommodated.
Range available in 2, 3, 4 and 5 fan versions.
Typical condenser range 90, 120, 160 and 200 kW THR 11k ∆T.
Condenser and Fans are included as standard.
Type 4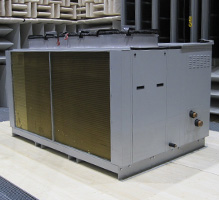 Our Type 4 acoustic housing acoustic enclosures and acoustic cabinets has the condenser coil and fans located above the plant section and angled so that the fans are less visible.
The coil section incorporates a sloping floor to drain rain water. It has a strengthened base and can be fork-lifted off the lower plant section to allow for easier workshop installation of the coil and fans at ground level.
The front grille can be easily removed and replaced by a single person.
Condenser pipe work is concealed within removable cover sections.
Overall depth of the acoustic housing is 1200mm.
Height options are 2000mm or 2300mm.
Available in up to 5 fan versions.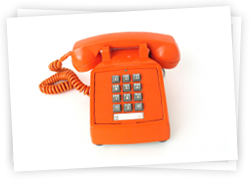 GET IN CONTACT
For further information, questions or advice on the services offered please call us now on 01732 523 550 or contact via our online form using the button below.
CONTACT

US NOW