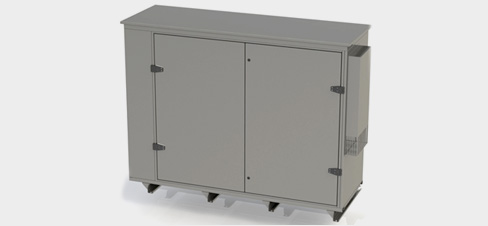 IN THIS SECTION
PRODUCTS & SERVICES
Modular Acoustic Housings, Acoustic Enclosures and Acoustic Cabinets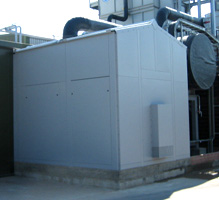 Our modular plant acoustic housings are designed to provide a lower cost alternative to using either converted transport containers or masonry built plant rooms.
These housings can be supplied with or without acoustic treatment.
Our solution offers a fast and easy site erection onto a concrete slab or steel skid. Subsequently the modular building is strong enough to be lifted or craned into a final raised or alternate position.
The design comprises of folded steel portal frames at 1.25m centres with inset wall panels and 'drop-on' roof sections.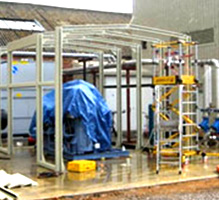 Our innovative design is produced using a state of the art CAD CAM software package which gives this product its unrivalled quality at manufacture.
The structure design is inherently weatherproof.
Sections can be easily removed and re instated to allow changes and replacement of installed plant during the lifetime of the housing/project.
Standard range
Widths:up to 10m
Eave heights:up to 4.5m
Lengths:1.25m multiple modules
Bespoke client sizes can be designed manufactured and supplied, so please ask for details.
Single or double leaf access acoustic doors can be fitted
Internal partition walls can be installed to provide separation or form rooms; for example as separate electrical control rooms within main building.
Acoustically treated installations have, as standard, the walls and roof lined with Acoustic foam to give an insertion loss (noise reduction) of -20 dB (A).
Higher performance foams and 'composite products' are available and can offer much greater noise reduction levels.
A variety of forced ventilation options facilitate the installation of Ammonia or Hydrocarbon plant.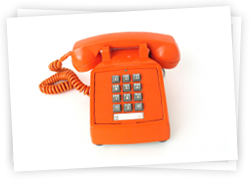 GET IN CONTACT
For further information, questions or advice on the services offered please call us now on 01732 523 550 or contact via our online form using the button below.
CONTACT

US NOW