IN THIS SECTION
PRODUCTS & SERVICES
General Purpose Acoustic Housings, Acoustic Enclosures and Acoustic Cabinets
These are standard plain acoustic housings, acoustic enclosures and acoustic cabinets for refrigeration plant and other mechanical equipment.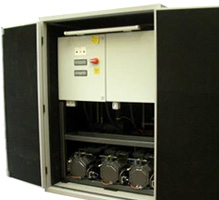 We provide a range of standard sizes but also offer a bespoke design and manufacturing service should you require additional elements.
The entire housing unit including the base is manufactured from British Steel pressings and all parts then benefit from a UV resistant epoxy powder coat painted finish.
For unit lengths up to 2.4m - each of the two front acoustic doors will be manufactured from a single sheet of steel thus removing the need (and cost) for any centre mullions.
We use polyurethane foam acoustic insulation designed into our door frames, thus allowing for overall minimum intrusion whilst offering improved door clear openings and increased internal space over similar external dimensions.
Easily removable acoustic door mullions can be provided for longer acoustic housings. 'Lift off' acoustic doors are an alternative option.
For acoustic housings, acoustic enclosures and acoustic cabinets that are less than 1100mm deep we design and provide legs that are extendible for increased stability, these are provided with on-site pre-prepared fixing holes.
Ventilation is achieved with attenuated externally mounted inlet ducts and discharged by 'fan box' ducts.
As an option we can provide pre-prepared pipe work entry holes in your specified locations.
However, be assured that our use of polyurethane foam insulation greatly simplifies the cutting of holes wherever required, when on site.
GPR Acoustic Housings, acoustic enclosures and acoustic cabinets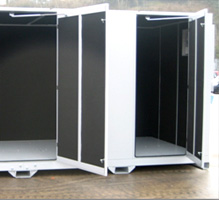 GPR acoustic housings, are designed for heavier plant, such as semi hermetic compressor packs and/or equipment with appreciably higher vibration levels.
This range is designed acoustic enclosures and acoustic cabinets and manufactured with reinforced base legs to transfer the weight of the plant directly to the ground and effectively decoupling the housing from the plant.
The reinforced legs are manufactured from 5mm wall RHS steels. After fabrication these are coated with the same protective finish as the rest of the housing.
It is recommended that the pack be supported on suitable vibration isolation mounts. Fixing holes for these mounts can be incorporated in the housing floor.
Removable Base Housings
The acoustic housing, acoustic enclosure and acoustic cabinet base is removable and has been designed for the direct fitment of plant without the need for a separate pack frame. BCEL have included some innovative concepts to overcome a number of practical problems and additional costs faced by plant manufacturers: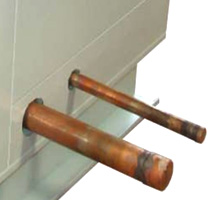 Storage of large plant acoustic housings for anything other than the absolute minimum of plant production line time.
Impracticalities of moving these housings around the client's production line and workshop.
Difficulties of installing the control panel within the housing and then the impracticalities of wiring the panel and plant in a confined space.
Delays involved in waiting for conventional plant frames to be manufactured or conversely the difficulties of stocking such large bulky objects.
Need to make final pipe connections within the housing and the inability to pressure test before housing installation.
Illogical and costly duplication of a strengthened pack base installed onto a strengthened housing base.
We offer:-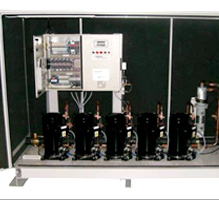 A single tier design for up to 14 scroll compressors
The unit has fork lift clearance for transit and can be easily craned using strops anywhere along its length.
The base occupies no more space during plant build than a conventional plant frame.
Fixings are incorporated for the compressors, liquid receiver, oil separator/pipe clamps ensuring accurate positioning and therefore reducing plant build time.
Fitted control panel brackets simplify mounting and allow for all-round access of wiring before the base is re-inserted into housing.
Removable acoustic panel at the side of the housing allows pipe work to be extended beyond the edge of the removable base.
With the pack base reinserted into the acoustic housing, the acoustic panel can be slid back over the pipes and then fixed into position. This allows the pack to be pressure tested before insertion and site connections are made outside of the housing.

Standard height: 1620mm with a ground clearance for your fork lift and pallet trucks
Standard depth: 1000mm
Standard Lengths: Up to 4.5m
Ventilation air intake is via an attenuated side wall mounted box. Air extract is through a mounted fan acoustic box either on a side or rear wall.
Optionally, acoustic doors can be supplied hinged or lift-off.
Longer acoustic housings are manufactured with 3 or 4 doors and one mullion which can supplied fixed or removable. The entire housing including the base is manufactured from sheet steel and all parts benefit from being UV resistant epoxy powder coat painted.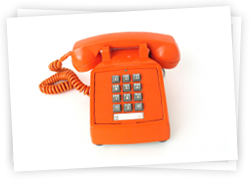 GET IN CONTACT
For further information, questions or advice on the services offered please call us now on 01732 523 550 or contact via our online form using the button below.
CONTACT

US NOW